BIOGRAPHIE
Here is my musical biography, at least, my beginning in music and in particular the creation of my band Blackstripe, which will have brought me on stage and will have forged my steel music.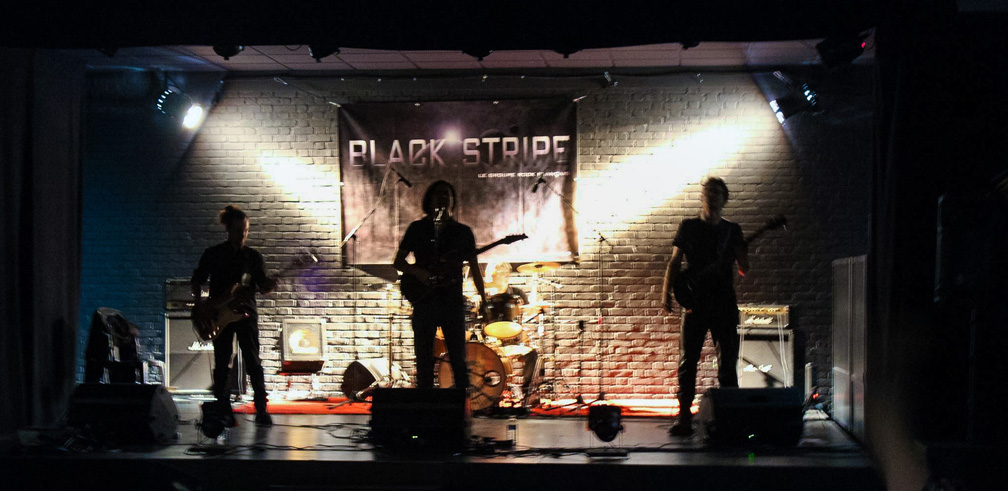 IN THE BEGINNING, BEN LEARNS BASS GUITAR SO HARD IN BRIGHT AUTODIDACTE _ "At 17 I bought my first bass correspondence in a magazine, and yes, there was no Internet at the time ... I ' wanted to make the Drum last longer, but I had neither the money nor the place, nor the ability to make noise. It seemed difficult, but I was passionate about Hard Rock music since the age of nine years old (initiated by Nicolas one of my older brothers, whom my mother had to offer an electric guitar shortly before ...) , so I bought this bass with the idea of ​​playing with my brother later ... ". ALONE WITH ITS BASS, BEN WORK IN HIS ROOM SEVERAL HOURS PER DAY, EVERY DAY DURING SEVERAL YEARS: _ "The first month, I could not give me, and as I started playing, I bought a tuner and had to relearn to play on more Cartesian bases ... "
FOR 5 YEARS BEN DEVELOPS ITS GAME AND BASSIST VIBRATES OF INNOCENT COMEDY OF MUSICIAN: _ "I already loved the velocity, I recall I have" invented "tapping into my research and studies of the possibilities ... But soon I learned that a man named Eddy had already discovered, and on the other, had largely developed ... But I was not above my pleasure remained unsolved; Contact and research instrument, will never be equaled by the touch of a machine, and it seemed obvious that I was made to play. "THROUGH THE YEARS, HOW THE BEN COMPLETES HIS LIFE IN MUSIC ACCOUNT.

_ "I was doing small jobs during the school holidays to bring some money to my mother, and I worked the summer more than 15 hours a day non-stop every day ... But growing up and after a few years a move up the ladder, the more I was changing in the music, and I felt like wasting my time doing something else ... "
SEASONS HAVE ALLOWED BEN TO SPEND IN THE WINTER TRAVEL: _ "From April to September I was working 6 Months more than a year, but on the other hand it allowed me to realize my travels and to devote myself fully to my music during low winter seasons ... "ATTRACTED bY tHE COMPOSITION INTUITIVELY, BEN KNOWS NOTHING BUT THEN tO tHE RANGES AND THEREFORE DO NOT KNOW tO READ AND wRITE oF mUSIC. PLAY HE KNOWS, KNOWS ITS STANDARDS ON FINGERTIPS, BUT WAS UNABLE TO SUPPORT SUCH AN ORCHESTRA BASSIST WORTHY OF SE NAME: _ "One day at a concert of a group of music, j ' was boeufé and realized that I was able to place great plan, but as the gratteu launched "Come on, we played on A ..." I did not know what he was talking ... and, it has the ear that I played, limiting the damage ... "
NO QUESTION FOR BEN TO RESUME ON ITS ALL A ZERO WARLOCK BC RICH, HE DECIDED TO GO TO MORE SERIOUS GUITAR TO CATCH HIS GAPS: _ "I always fiddled guitars, mainly with my buddy who had two Equalizer folk and classic, and on my first trip to India I had bought myself a guitar because finding a low acoustic was more complicated at the time and more expensive option, so I had never seriously considered playing guitar technically yet , this would be my revelation: I had always been fascinated by the rhythm and the guitar was going to give me the melody that I could reach only partially on bass ... "
YEARS OF LOW ON A PERMIT TO PROGRESS BEN SPEED GRAND V: _ "I formed my bass agreements plans, and plugged my Fender copy on my stereo through a" SansAmp ".".
BUT ALL BEGAN WHEN BEN VA BUY ON FIRST PIGALLE 4 TRACKS, A YAMAHA MT50. _ "I had a box rhythms DR550, I was the bass, I had a guitar, I had a head full of ideas, in short, I was fresh to save me ..." BEN IS FAT TO ITS MAGNETO REGISTER sEPARATELY AND POND INSTANTLY "WALK IN THE SKY" A FIRST JET, AND MAKES NO TEXT then "BEBEL" RESULTING FROM ITS FIRST LOOP FINDING ON ITS LOW, THE tIME WHERE HE STILL BÛCHAIT ON PLANS AND triplets STEEVE iN HARIS "SOMEWHERE iN TIME" _ "Everything was happening simultaneously, and the more I discovered the more music I enjoyed the great musicians such as Joe Di Maio, Stuart Hamm, Stanley Clarke, Clif Burton for bass and my guitar teachers became Joe Satriani, Vai Steeve, Yngwie Malmsteen ... While some have grown tired of the new government, perhaps disgusted by their technical prowess, I instead I said, "It is possible ..." and although I had no intention to copy them, I notice every intention of comparing myself; I thought they had contributed to my musical direction and reinforced my theory linking the Hard Rock to the great classical music. "
BUT QUICKLY BEN VAS If SPREAD THE MUSIC TO CREATE THE MUSIC. IL boycotted TABLATURES AND BOOKS OF STYLE SHEET DEVELOP _ "All guitarists playing, pumped their idols, and may end up playing" like "... I do not want to sound" like ", and I don ' I never wanted to resume, first respect for the music and the merit of mine ... anyway, people always compare you "to" ... still happy, and as long as it is not to shit ... "
AFTER SEVERAL MONTHS IN ASIA WHERE HE WRITES LOT INCLUDING ITS TRAVEL BEFORE, BEN OJEU TEACHERS AND TEACHES THE GUITAR TO HIS BEST FRIEND with whom he shared HIS PASSION AND LIVER TO MUSIC AND COMPOUND "STEP" _ "J ' desperately trying to learn to play Max in particular ... "Now," but did not arrive and after several hours; I simplified the grid in the focusing on a loop of some agreements. Symbolically, I called the song "Step". I recall me from the deep emotion provoked by chills in the back during my acceleration, bristling hair playing us, it was a nirvana .... "
SOME MONTHS LATER, BEN ORGANIZE WITH FRED A FRIEND DRUMMER OF PASSAGE, A PARTY MUSIC, BEN FIT THE KNOWLEDGE OF PHIL BENNET THAT CAME ATTRACTED BY STYLE ALREADY OUTSPOKEN BEN, THIS YOUNG GUITARIST FOU TO THE JAM TO BATTERY . THEIR MEETING SOON ARISE BY LOW BATTERY HALF THE TIME THAT MAKE YOU AGAIN SE.
PHIL FRIEND BASSIST, CHRIS Stefenson. BEN HER FRIEND MAX. QUARTET IS BORN.
BEN LONG HAD THE MOUNTED BLACKSTRIPE BUT THIS TIME THERE WAS STILL MUSIC, IT WAS A FRIEND OF BAND (2 DEPARTING) WITH HIS FRIEND Equalizer: THE "BLACK STRIPE" STRIP BLACK, THE RESULTING IT WAS WEARING BLACK BANDANA. ANY ONE HAVE BEEN PRIVILEGED INSIDER then "BLACK STRIPE" IT HAD TO BE EQUIPPED WITH Chach, a quickdraw HAVE A HAND DEMONSTRATE ORIGINALITIES, THE MEANING OF THE "TEUF" OF COURSE, BUT ESPECIALLY BE WITH VIRTUES.
DEFEND THE WEAK, REPAIR INJUSTICE, BEING HUMAN, stagger WHEN DRUNK, BUT BE GOOD, HONEST ... TO FEEL FREE AND WORTHY OF LIFE GIFT. BEN concretized PART OF A DREAM IN "BLACK STIPE" EXTRAORDINARY EXPERIENCE, WHICH WAS ITS BEST SCHOOL STAGE RIGHT 1994. REPEATS HOURS IN THEIR GARAGE TO CONCERTS, PLAYED AT ARRACHE IN PUB BOX, THE bARS TO ROAR FOR TIMES TO AGREE AMONG THE BEARING AND TOMS hubbub saturations, ENDEAVOURING TO sING IN ITS FIRST LIVE SMALL BEGINNINGS 100 W MONO. _ "In the short time, each evolved, Chris himself, seemed to take a different path, and when he announced we want this walk the night of the music festival, surprised to see him denied the only date free but symbolic from June 21; we all looked and have decided to part I liked him a lot, I often argued with him, he had other things in mind, and we looked for a new bass player "ALWAYS THROUGH.. GOOD CHANCE IT VERY QUICKLY MEETING, THAT BECOME A PART THEREOF bASSIST ENTIÈREjusqu'en 99 PAT GUYON bASSIST'S eXPERIENCED, that will integrate FAST GROUP.
CELLAR TO LARGE ROOMS, BEN CALDERON AND BLACK STRIPE ARE NEVER HAPPENED UNNOTICED: "At first I was afraid that take tomatoes in the face, but it has always gone well in the worst has made was sometimes playing to almost empty rooms, but the key is that we play as well as giving the maximum, and our complicity with the public was not greater. He had 30 people there, or more than 500, the key is to give all that we have, people remember at all like us. After each concert, the party continues, and the music of the musician reasons in your body and in your head ... "GENEROUS, BEN GIVES NOT WAIT TO RECEIVE THE PUBLIC FACE HE KNEW NOT ADVISED OFFENSIVE EARS BUT THOSE WHO vibrate MORE SOUND BUSINESS KNOW RECOGNIZE THE AUTHENTICITY IN VOICE EMBODIED BY ITS AUTHOR IN BLACK STRIPE. ALL THE PIECES OF BLACK SRTIPE HAVE BEEN WRITTEN AND MADE BY BEN BUT AS THEY SAY ABOUT HIM "THE LEADER" SMILES AND SAYS IT SOMETIMES FORGET LIKE PLAYING IN If LISTENING THE MUSIC THAT HAS IT CONSIDERS THAT S ' JUST WHAT HE CAME BY THE SEED, AND THAT HAS TO mUSICIANS IN GOOD PARENTS, TO RAISE TO DO ANY GOOD THING. ALWAYS VERY HUMBLE, BUT YOU WILL NOT DECEIVED, BEHIND ITS ORIGINS LATINES HIDING A PERFECTIONIST PERPETUAL SATISFIED THAT WANTS CARRYING A MESSAGE OF HOPE AND PEACE. IN 2018 ... BS STOPED. BEN MADE ONLY HIS SOLO ALBUMS WITH NEW COMPOSITIONS. NOW THERE'S 4 ALBUMS ON LINE AND A NEW ONE WILL ARRIVE ON 2098.